Sale!
Canna Immortelle – Hemp Ointment with Immortelle, 50 ml
€34.47
CANNA IMMORTELLE is a completely natural therapeutic ointment containing 4% industrial hemp oil extract with high-CBD (cannabidiol) content. CBD has numerous proven positive effects on a wide variety of skin issues.
The main ingredients in the ointment are CBD and immortelle essential oil – a fantastic plant that is called "immortal" for plenty of good reasons.
Description
CANNA IMMORTELLE is a completely natural therapeutic ointment containing 4% industrial hemp oil extract with high-CBD (cannabidiol) content and a whole range of other phytocannabinoids such as CBDA, CBN, CBG, CBGA, CBC, CBDV and others. CBD has numerous proven positive effects on a wide variety of skin issues.

The ointment's main benefits
Excellent help in combating acne, skin issues, and herpes:
When our body is under stress, sick, and not producing enough of its own cannabinoids, we can also ingest them from exterior sources by applying them to the skin. CANNA IMMORTELLE ointment contains immortelle (Helichrysum italicum) oil, which is indispensable in treating sensitive, acne-prone and problematic skin. The ointment also contains cedar essential oil, which is commonly used to cleanse acne and soothe sensitive skin. Upon a herpes virus attack and outbreak, simply apply the ointment to the affected area, as it has an anti-inflammatory effect and assists the healing process.
Excellent treatment for cracked, dry and wrinkled skin – ensuring superb skincare and protection, even after tattooing:
Immortelle oil is indispensable in cosmetics, as it rejuvenates the skin, accelerates cell regeneration, and is useful in reducing ageing skin and wrinkles and boosting wound healing. It has a wide range of beneficial effects, helping the body fight free radicals and regenerate effectively. Palmarosa essential oil added to Canna Immortelle ointment soothes and helps tighten skin. An additional advantage is beeswax, which is rich in vitamin A, giving the skin softness and elasticity and protecting against diseases.
Effective symptom relief for dermatitis, psoriasis and other skin disorders:
Hemp ointment assists in combating skin issues and easing the symptoms that manifest on the skin. The natural ointment base is comprised of coconut oil and beeswax, with added hemp oil and shea butter. This ointment is suitable for skincare and treating various issues such as acne, seborrhea, eczema, dermatitis or psoriasis, and is also useful in cases of chronically dry, sensitive and allergy-prone skin. Due to the amazing properties of immortelle essential oil, it's excellent for skin and body care, providing effective help in:
diminishing scars and stretch marks;
diminishing under-eye bags and dark circles;
alleviating inflamed and aching joints, arthritis;
combating fungal skin infections;
eliminating bruises.
About hemp
Hemp buds, which serve as the base of most of our products, contain naturally occurring cannabinoids, CBD and CBN. CBD affects the peripheral nervous system and, in contrast with THC, causes no intoxication – plus, it's completely legal. It has a similar composition to that of endocannabinoids produced by the body itself, binding to the so-called cannabinoid receptors in human tissues. Ingested cannabinoids (e.g. CBD) and our own endocannabinoids are involved in many physiological processes through cannabinoid receptors, providing effective help in boosting the immune system (antigen recognition, multiple sclerosis), the cognitive and nervous system (improving memory, relieving anxiety, depression and insomnia), motor activity, endocrine functions (hormones), the digestive system (regulating appetite, regulating blood sugar levels, alleviating vomiting, nausea and other ailments, including Crohn's disease), treating pain and inflammation (muscle cramps, pain relief in arthritis and muscular dystrophy), ensuring healthy skin (antibacterial and anti-inflammatory effects, alleviating acne, psoriasis and dermatitis issues, soothing skin allergies, combating herpes).
Composition and usage
COCOS NUCIFERA OIL, BEESWAX, CANNABIS SATIVA SEED OIL, BUTYROSPERMUM PARKII BUTTER, CANNABIS SATIVA LEAF EXTRACT, TOCOPHERYL ACETATE, CYMBOPOGON MARTINI HERB OIL, CEDRUS ATLANTICA BARK OIL, HELICHRYSUM ITALICUM FLOWER OIL, LAURUS NOBILIS LEAF OIL.
Net content: 50 ml.Usage: Once or twice a day, apply ointment to the affected areas.
In case of hypersensitivity reaction, discontinue use.
Storage: Store the ointment in a dry and cool place, away from direct light. Use the product within 6 months of opening.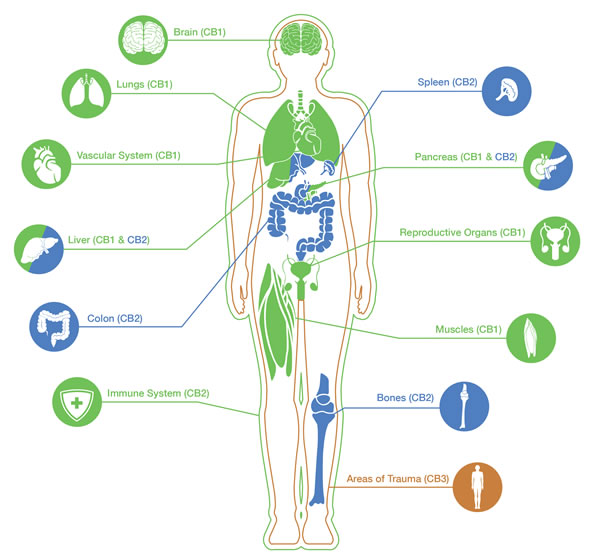 Click on image to expand
Additional information
| | |
| --- | --- |
| Quantity | 1x, 2x package, 3x package |